Sunset Beach Happenings
As you know, we recently had to cancel our Annual Potluck & Membership Drive due to the uncertainty of Hurricane Michael's path.  We are rescheduling the event to coincide with another event that we already have planned.
Zombie Bike Ride October 20th.  
As we Ride out the Red Tide, Sunset Beach Celebrates the Un-Dead.  As the sun sets, the streets will come alive.  Get ready for the Zaniest Bike Ride through the streets of Sunset Beach. Get Creative! Get Crazy! Wear your best Zombie, Ghoul or Sugar Skull Costume.  Light up your Bikes & Trikes.  Prizes will be awarded for Best Costumes & Best Dressed Wheels!  Join us for the Zombie Tailgate Party, Zombie Ride and the Zombie Bash.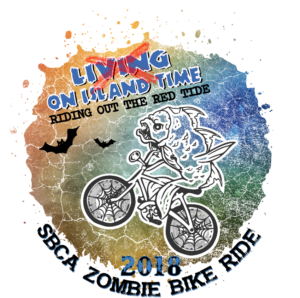 When & Where: October 20, 2018 
5:30-7:30  Tailgate Party/Potluck at Sunset Beach Pavilion
7:30          Zombie Bike Ride leaves the Pavilion
8:30-until  Zombie Bash at Caddy's on the Beach
Bring:  Costume, Wheels(Bikes & Trikes) Disposable tailgate/picnic dish to share.
For Sale: Beer & wine, SBCA Memberships &  New T-shirts
Face Painting: Zombie, Ghoul, Sugar Skull.
The event will end at Caddy's  for a Zombie Bash with Costume Contest Prizes, drink specials & door prizes.
Tell your friends!
https://www.facebook.com/events/1083619338484024/
Please be advised the Potluck tonight has been cancelled due to weather
conditions. We will send out an email when we have rescheduled this event.
Sorry for any inconvenience.
The SBCA Board
ATTENTION:
"West Gulf Boulevard from the split at Bayshore Drive to 77th Avenue will be closed on Thursday, September 20th (weather permitting) to finalize paving. During this time, traffic in both directions will be detoured to Bayshore Drive. West Gulf Boulevard will be re-opened by the end of the day. The Tern Parking lot will re-open on September 27."
WEDNESDAY, AUGUST 22, 10:00 A.M. UPDATE 
Dead fish were observed at Pass-A-Grille, Redington Beach, and Ft. De Soto this morning. The condition of the fish indicate they have been dead for some time and are likely floating in with the tides.
Additionally, red tide sampling locations have been added at Pass-A-Grille and Indian Rocks Beach. Monitoring results will be posted by the close of business or first thing Thursday morning.
For the latest updates click here.